To anyone not familiar with Real Estate designations and what they mean, they can look like confusing and hold no meaning. But the fact is, they do mean something very important when selecting a REALTOR® to work with during your home buying or home selling process.
These designations indicate that a REALTOR has the dedication and has taken the time to further their education in today's complicated real estate market.
In other words, although they may look like just a series of letters, ABR, GRI, CRS, and SRES actually add up to spell one very simple idea: COMMITMENT TO EXCELLENCE!
And after all, isn't that what you want in a person who is going to work with you while you make one of the most important financial decisions in your life?


Click here to learn more about this exciting new Professional Certification!
(ABR) Accredited Buyer Representative
Awarded by the Real Estate Buyer's Agent Council.
With over 20,000 members, REBAC is the largest association of real estate professionals focusing on all aspects of buyer representation. Over 11,000 ABR® designees have completed the REBAC course, passed the test and provided documentation of buyer agency experience. Less than 5% of all REALTORS® hold this designation.
Using a Buyers Representative offers the consumer many benefits.
Evaluate the specific needs and wants of the buyer and locate properties that fit those specifications.

Assist the buyer in determining the amount that they can afford (pre-qualify) and show properties in that price range and locale the consumer has determined.

Assist in viewing properties and either accompany the client on the showings or preview the properties on behalf of the client to insure that the identified specifications are met.

Research the selected properties to identify any problems or issues to help the consumer in making an informed decision prior to making an appropriate offer on the property.

Advise the client on structuring an appropriate offer to purchase the selected property.

Present the offer to the sellers agent and seller on the clients behalf.

Negotiate on behalf of the buyer client to help obtain the identified property. Keep in mind that the buyer agent will be doing so with their clients best interests in mind.

Review and explain all legal documents to their buyer client.

Recommendations and assistance in securing appropriate financing for the selected property.

Provide a list of potential qualified vendors e.g. movers, attorneys, carpenters if these services are needed by the consumer.
Most importantly, the buyer would know that they are fully represented throughout the real estate transaction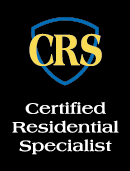 (CRS) Certified Residential Specialist
A designation held by only 1% of all real estate agents. Agents will maximize their profit by joining this network of over 35,000 top professionals. CRS Designees complete advanced study in residential listing and selling and meet established production levels. There are different programs based on years of experience.
CRS (Certified Residential Specialist)
Why do I need a residential expert?

Buying or selling a home is one of the most crucial financial transactions of your life. In what can be a confusing and sometimes difficult process, it pays to leave as little to chance as you can. But with the help of a professional, you can navigate unknown territory with ease.

To fill the specific residential needs of home buyer and sellers, the Residential Sales Council of the National Association of REALTORS® instituted a class of expert real estate professional: the Certified Residential Specialist (CRS®).

How can a CRS help me?

Every CRS has undergone a rigorous, specialized course of detailed training aimed at making residential transactions as smooth and worry free as possible

A CRS brings special qualifications to your needs:
Membership in a local Board, State Association, and the National Association of REALTORS®. Every CRS is part of a much larger network of real estate professionals.

Successful completion of the courses leading to the Certified Residential Specialist designation, one of the most successful residential real estate education programs in the country. Every CRS is a real estate professional equipped with special expertise, thanks to advanced study in listing, selling, investment, tax and more.

A history of demonstrated sales performance through the documented execution of residential sales transactions.

Every REALTOR® must conform to the National Association of REALTORS® code of ethics.
What this means is that when you work with a CRS, you're working with someone who is more connected, more knowledgeable, and more experienced.

What if my needs are special?

If anything about your transaction is special, seek out a specialist. It's as simple as that. Only 4% of all REALTORS® and REALTOR ASSOCIATES® have earned the right to be called a CRS. Only 4% have developed special residential sales skills and enhanced their residential sales knowledge through study, dedication and experience. A CRS can help you optimize your transaction by identifying better prospects, clarifying investment potential and helping you to understand the tax ramifications of your real estate transaction. It all adds up to one thing: better service.

What special qualifications does a CRS bring to my transaction?

Your trust in a CRS is well earned thanks to these distinctive credentials:
A professional designation of residential specialty, the highest in the country.

A higher level of education in residential sales.

Professional affiliation with thousands of other real estate professionals on the local and national levels.

Up to the minute industry information, with respect to taxes, investment, legislation, and other areas of critical importance.

Local market knowledge and special residential expertise unique to your area.
Seniors Real Estate Specialists
Seniors Real Estate Specialists help seniors make wise decisions about selling the family home, buying rental property, managing the capital gains and estate tax implications of owning real estate, obtaining a reverse mortgage, moving to a senior community, and other issues. By earning the SRES designation, Dan has demonstrated that he has the requisite knowledge, experience and expertise to be a seniors real estate specialist.

The Senior Advantage Real Estate Council® (SAREC) tracks the special issues and needs of senior property owners and provides education to REALTORS® who make seniors an important focus of their business. The SRES designation was introduced in 1997 and is nationally recognized.