Welcome to Hampton Roads, Va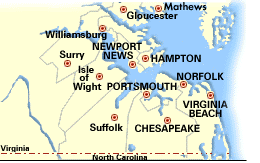 Money Magazine | Cost of Living Summary | Virginia State Facts
Hampton Roads is one of the most diverse metropolitan areas in America. The area is steeped in history, culture and the tradition of years gone by. But don't be fooled, Hampton Roads is a major hub for many technology based operations including NASA, Gateway and Canon. It is a place where both old and new cultures exist, and thrive, in harmony.
The area's proximity to the Atlantic Ocean, Chesapeake Bay and many lakes, rivers, creeks, and inlets is both a source of employment and entertainment for many residents of the area. On any given day you can observe people boating, swimming, surfing, sailing, fishing and clamming, canoeing, water skiing, windsurfing, wave jumping - this is the place for it all.


With our appealing climate, there's plenty to do on land year 'round, too. Biking, tennis, and golf are big. So are minor-league pro sports, like baseball from the Norfolk Tides, ice hockey from the Hampton Roads Admirals, soccer from the Hampton Roads Mariners, football from the Hampton Roads Sharks, and fastpitch softball from the Virginia Roadsters. But if you'd rather play than watch, recreational leagues and sports groups abound.

The neighborhoods in Hampton Roads are very diverse. Each city has a very distinct lifestyle and feel. From the farm land and rural living in Suffolk, Smithfield and York County to the glitter and eclectic feel of downtown Norfolk to the soothing atmosphere of ocean front living in Virginia Beach - you can find any type of lifestyle.

Hampton Roads is one of the most desirable locations on the Eastern Seaboard because it is central to many major metropolitan areas and historic sites. Colonial Williamsburg is a mere 25-45 minute drive and offers plenty to do and see including Jamestown and Busch Gardens. If you prefer the great outdoors, head a few hours west and you're hiking in the mountains. Or drive a few hours north and you're exploring D.C. and New York. An hour south and you're escaping to North Carolina's scenic Outer Banks.
---
In its 1998 ranking of best places to live in America, Money magazine said Norfolk is the best big city in the South
For our 12th annual ranking of the best places to live in America, we interviewed people in 500 households across the country about the factors that are most important in choosing a place to live. This year's top five: clean water, low crime, clean air, good public schools and low property taxes. Then we gathered data on the 300 largest metropolitan statistical areas, crunched the numbers and ranked all 300 according to size (1 million plus, 250,000 to 999,999, and 100,000 to 249,999) and region (East, South, Midwest and West).


Virginia, it seems, has a lot of what Americans covet - all three of this year's winning cities in the South are in the state. Charlottesville, home to the University of Virginia and Thomas Jefferson's Monticello estate, ranked as the region's best small city. One key attraction: the public schools. According to Expansion Management, a management consulting firm that specializes in educational research, Charlottesville spends $5,927 per pupil, well above the national average of $3,187, and the schools boast a student/teacher ratio of 10.3 to 1, compared with a national average of 17.8 to 1. Other pluses: excellent water quality, a lower cost of living than the national average, relatively modest property taxes and proximity to the scenic Blue Ridge Mountains.

The best medium-sized city (250,000-999,999) is Richmond; the best big city (1,000,000+) is Norfolk.
Only three metropolitan areas were less expensive overall than Hampton Roads, in this 1999 cost-of-living survey of 23 metropolitan areas with more than 1.5 million population.
| | |
| --- | --- |
| METRO AREA | INDEX |
| New York (Manhattan), NY | 232.0 |
| Nassau-Suffolk, NY | 141.8 |
| Boston, MA | 134.18 |
| Los Angeles-Long Beach, CA | 125.5 |
| Washington, DC | 123.4 |
| Philadelphia, PA | 118.7 |
| Portland, OR | 112.5 |
| Cleveland, OH | 112.1 |
| Riverside-San Bernardino, CA | 111.6 |
| Denver, CO | 107.9 |
| Miami, FL | 106.4 |
| Minneapolis-St. Paul, MN | 105.2 |
| Phoenix, AZ | 103.3 |
| Atlanta, GA | 102.9 |
| Dallas, TX | 100.6 |
| Cincinnati, OH | 99.5 |
| Orlando, FL | 97.8 |
| Indianapolis, IN | 97.2 |
| Baltimore, MD | 97.0 |
| Hampton Roads, VA | 96.9 |
| St. Louis, MO | 96.7 |
| Houston, TX | 95.0 |
| San Antonio, TX | 89.4 |
The cost of housing in Hampton Roads is among the nation's lowest. The region's housing index as of second quarter 1999 registered 88.6 - eleven percent below the average for all areas tracked in the report. Only two metro areas with over 1.5 million population reported lower housing costs than Hampton Roads: Houston, Texas, at 14 percent below the all-areas average, and San Antonio, at 17 percent below the average.

The ACCRA housing index reflects the cost of a 950 square foot, 2 bedroom, 2 bath apartment and an 1,800 square foot new home. As of second quarter 1999, the average cost of these items in Hampton Roads were, respectively, $581 per month and $126,460. A comparable apartment in the most expensive major metro area tracked - New York - averaged $3,280 per month, while an 1,800 square foot home priced out at $633,000.
Virginia State Facts
The State Flag of Virginia bears the Great Seal of the Commonwealth on a field of blue. The seal depicts the goddess "Virtus." She is dressed as an Amazon, armed with a spear and sword, and stands over a defeated despot. The seal displays the State Motto,"Sic Semper Tyrannis," which is Latin for, "Thus Always to Tyrants."
Location, Size and Extent
Virginia is located on the Eastern Seaboard of the U.S. It is the fourth largest of the South Atlantic States and thirty-sixth in size among the 50 states. The total area of Virginia is 40,767 square miles (105,586 square kms). It extends 440 miles east to west. (470 miles point to point) and 200 miles north to south.
Topography
Three Physiographic Areas:

Atlantic Coastal Plain or Tidewater (Hampton Roads)
Piedmont Plateau
Appalachian chain

Highest Peak: Mt. Rogers, 5,729 feet (1,746 m)

Major Rivers:

Tidewater-Potomac
Rappahannock
York
James
New River
Climate
A mild to humid coastal climate is characteristic of Virginia.
Record high temperature: 110 degrees F (43 C) at Columbia on July 5, 1954.
Record low temperature: -29 degrees F (36 C) at Monterey on Feb. 10, 1899.
Average July temperature: 75 degrees F (24 C).
Average January temperature: 36 degrees F (2 C).
Average yearly precipitation: 43 inches (109 cm).
Population
Virginia ranks as the 12th most populous state in the U.S.
Virginia's population reached 6,187,358, in 1990, a 15% increase since 1980.
According to projection, the population by 1995 reached 6,580,000.
The population density is 156.3 per square mile (60 per square km).
In 1990, 72.5% of all Virginians lived in metropolitan areas.